What is New?
The Universal Mounting Bracket (UMB) is new. The UMB has been developed to enable the proven and popular AWS to be mounted on a large variety of recumbents.
The UMB can be installed in about 10 minutes and remains on the recumbent.
The AWS is simply inserted into the UMB, which explains the very quick assembly and dissassembly of the AWS for daily use.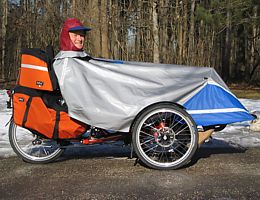 Whether you use your recumbent for Touring or use it for your daily transport to work or for pleasure, the AWS can be your trusty companion: it weighs just 1500 g and is 30 x 15 cm small packed up in the bag. It can be mounted for use in 2 minuts or less, and packed away again just as quickly.
Once mounted, the AWS can be used in full protection mode, or when the sun shines again, be reduced to convertible mode in seconds. You don't even have to get off your bike. You'll learn to love this feature during intermittant rainy weather.
The AWS is manufactured with coated polyester material making it completly waterproof and very rugged as well as UV resistant. Since the only body contact is over the shoulders, the air has sufficient circulation between body and cape to prevent the unpleasant sauna effect.
The shockcorded Aluminum stays are integrated in the cape, and semi-automaticaly snap together when unpacking and mounting the AWS. There are no loose parts that can be lost or forgotten at home.
For traffic safety reasons the Hood is not directly attached to the cape.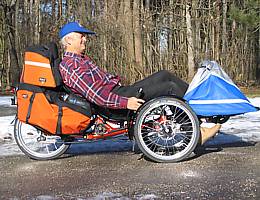 This allows you to turn your head without having your vision impaired. The hood turnes with your head when shoulder checking. The AWS hood has a wide collar which fully overlaps the cape, providing the ideal protection for strong or long rain. If you use a helmet, it can be worn over the hood.
A generous amount of reflector bands make the AWS very visible in the dark and in bad weather thereby enhancing your own safety.
Another advantage: With the AWS as a bike cover, your recumbent stays dry even when you park it in the rain.
Sizes
The AWS is custom for optimum fit. In addition, the cape has an integrated length adjustment belt for tightening the cape during adverse wind conditions.
Colors
The AWS is manufactured in different colors or combination of colors.
Orders
Contact
us,
call or fax
+49 8158 9508
,
or

mail
to obtain colour samples. You will receive your AWS about 3 or 4 weeks after ordering.